I was in a gray mood today. Paris Gray.
While the rest of Florida was preparing for Isaac's arrival I was busy on the lanaii painting.
I wanted to try and do some dry brush painting that I had heard of. I had a large wooden vintage jewelry box to refinish.
This is my version in the new technique.
Step 1.
I lightly sanded the wood and painted it with white paint. The trick is to put very little paint on your brush. The wood got a quick covering in white and dried quickly in the Florida sun. I also had time to wash the brush and let it dry.
Step 2.
With gray paint. I am calling it 'Paris Gray' and again using very little paint on the dry brush I covered all the white paint with gray.
You can see how streaky the white paint is on the side of the box. The top has a coat of gray. I should have taken a close up picture for you.
Step 3. With a little piece of sandpaper I lightly sanded the piece. I like to sand off just a little paint at a time. In this way I can be in controll of how much of the underlying white paint shows through as well as the original stain and the wood. I sand primarily on the corners and around any knobs. I want it to look like it was worn away over time with lots of use.
This box has a red velveteen lining. It is almost perfect. There is only one drawer that has any staining in it. I will attack that in tomorrow's lesson.
I also had time to put a coat of Paris Gray on this candle stand.
In my next post I will cover cleaning the drawers and waxing for the perfect finish to this Shabby Chic project.
Gray is a trendy color right now. Here are some major gray pieces from my friends shop's on Etsy.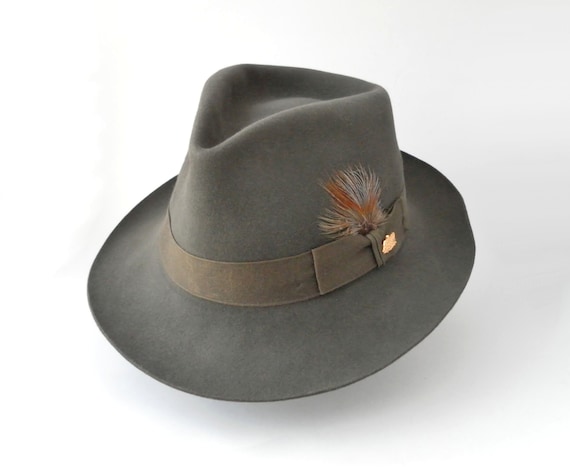 Vintage Stetson Fedora Hat
You just might want to add a splash of color to these pieces and there are plenty to choose from here...
Hurricane Isaac is heading up towards the Gulf of Mexico and I am getting ready to 'hunker down' as they say here on the Gulf Coast of Florida. We have bottles of water, candles and batteries and food supplies all ready.
The schools have been notified to stay closed on Monday and the RNC is being delayed one day.
Pray it is just a lot of rain and some wind.
Anne